Real quick...
Some of you long time followers may remember me
talking about Angie
Smith @
Bring the Rain
, she is married to Todd of Selah, and her sweet daughter Audrey, who 1 year ago tomorrow went to live with Jesus. If you've never read her story, please do. It's so worth it. Heart wrenching, but amazing to see how God brings beauty from ashes. Remember them in prayer this week and especially tomorrow....
I also, specifically, want to point you towards her post from yesterday. You won't be sorry. In her post
Unredeemed
, there is a new song NOT YET RELEASED by Selah, and it is AMAZING and powerful. But don't wait too long to listen!!! (because of legal things, it will only be on there for about 3 days starting yesterday!)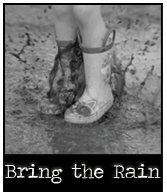 So I'm done "talking". Now go. LISTEN! ...and pray.
*******************************
OK, not QUITE done...:)
Also, continue to keep sweet Stellan and
MckMama
in your prayers, they are about to take a whole different direction in Stellan's treatment...it's going on 3 weeks in PICU. They are continuing to
praise Him in this storm
, but cherish those prayers of fellow believers who are supporting them and, at times, holding their hands up when it seems they have no strength to.